Primary tabs
FULL METAL TONNEAU COVER (Full-Metal Jackrabbit)
Tough, Coated Aluminum Deck. This spring-action retractable tonneau cover is made with heavy-gauge extruded aluminum and given a tough, powder-coated black surface. It's flush-fit mount makes it easy to clean and gives it a sleek, streamlined look.
FULL-METAL JACKRABBIT FEATURES
Full Metal, powder-coated aluminum deck interlocking silicone hinges that glide along the side rails.
Exclusive, heavy-duty Continuous Tension Spring (CTS) allows the cover to open automatically when the latch is turned and retract into a canister at the front of the truck bed.
Open and close with the built-in pull strap. It engages the latch at 12" intervals.
Advanced low-profile, independent latch-and-lock handle system.
No-drill, clamp-in design (most applications) for quick, drill-free installation.
Full-length handle and over-the-tailgate seal enhances the cover design.
Fits overmost 5th-wheel trailer hitches. Highest point of the 5th wheel should be 2" below bedrails.
Three-year limited warranty.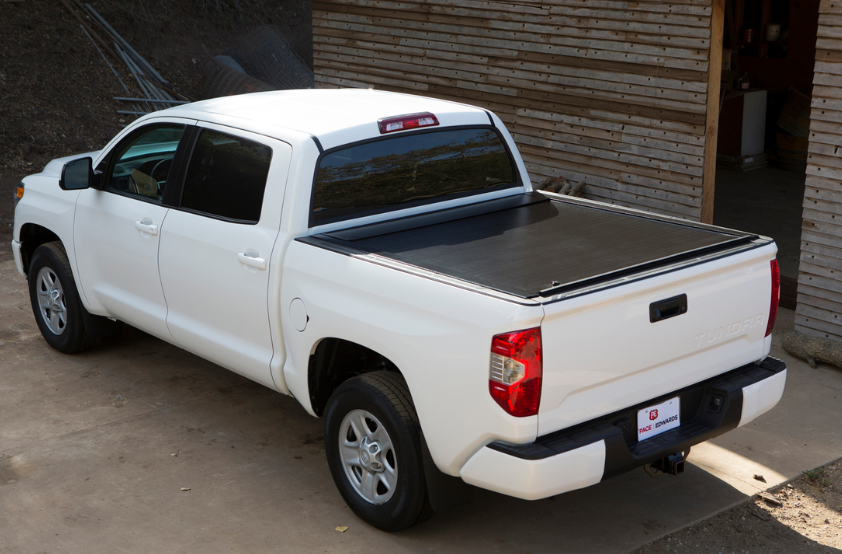 Tonneau Covers