Primary tabs
LED Cube Light Features:
IP67 rated
Made with Cree Chips Technology
Sleek design
6,000K color temperature
Low power consumption
Over 30,000 hours of usage
Die-cast aluminum housing
Various mounting options

Each Kit Includes:
Wiring harness, mounting bracket/tools, inside operation switch, installation instructions and warranty information.
LED Cube Lights
*Part numbers ending in P are pair packs. All others are single lights.

Part No.
Light Type
Beam
Pattern
Number
of LEDs
LED
Wattage
Lumens
(total output)
Beam
Angle
2122131P
2 x 2 Cube (pr)
Spot
4
3 Watt
960 lm
8°
2122141P
2 x 2 Cube (pr)
Flood
4
3 Watt
960 lm
90°
2122131
2 x 2 Cube (ea)
Spot
4
3 Watt
960 lm
8°
2122141
2 x 2 Cube (ea)
Flood
4
3 Watt
960 lm
90°
2122142P
2 x 2 Cube
Flush Mount (pr)
Flood
4
3 Watt
960 lm
90°
2111131P
2" Work Light (pr)
Spot
1
10 Watt
1000 lm
8°
2111141P
2" Work Light (pr)
Flood
1
10 Watt
1000 lm
8°
2123141
3" Work Light
Flood
6
18 Watt
1440 lm
90°
2123131
3" Work Light
Spot
6
18 Watt
1440 lm
8°
2123141P
3" Work Light (pr)
Flood
6
18 Watt
1440 lm
90°
2123131P
3" Work Light (pr)
Spot
6
18 Watt
1440 lm
8°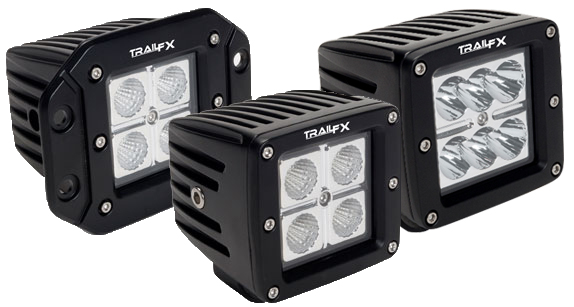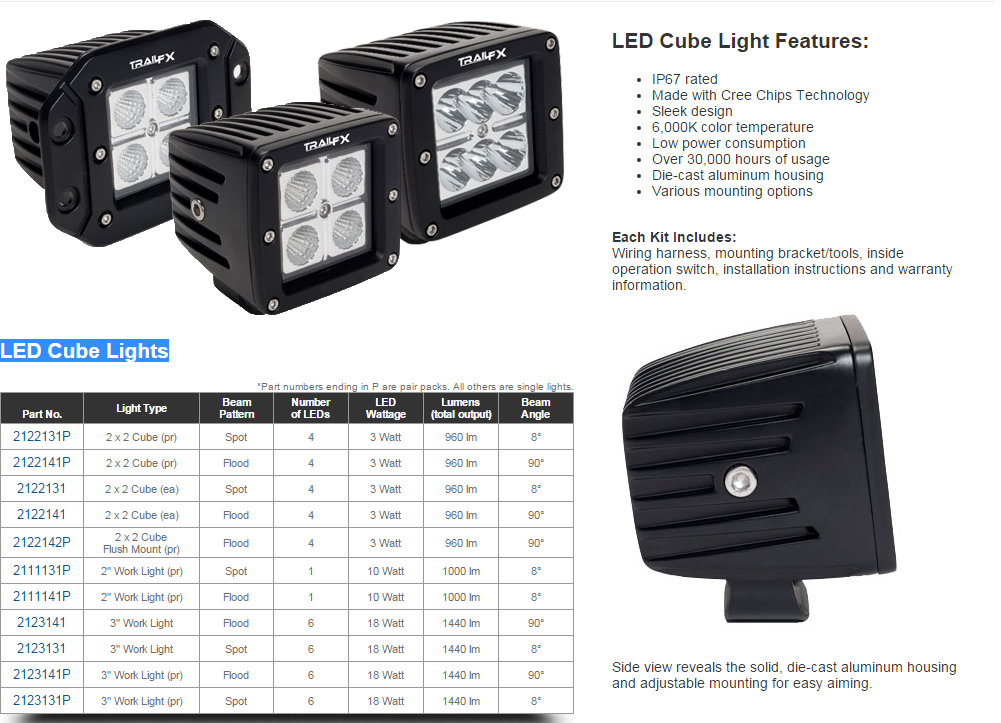 LED Lighting